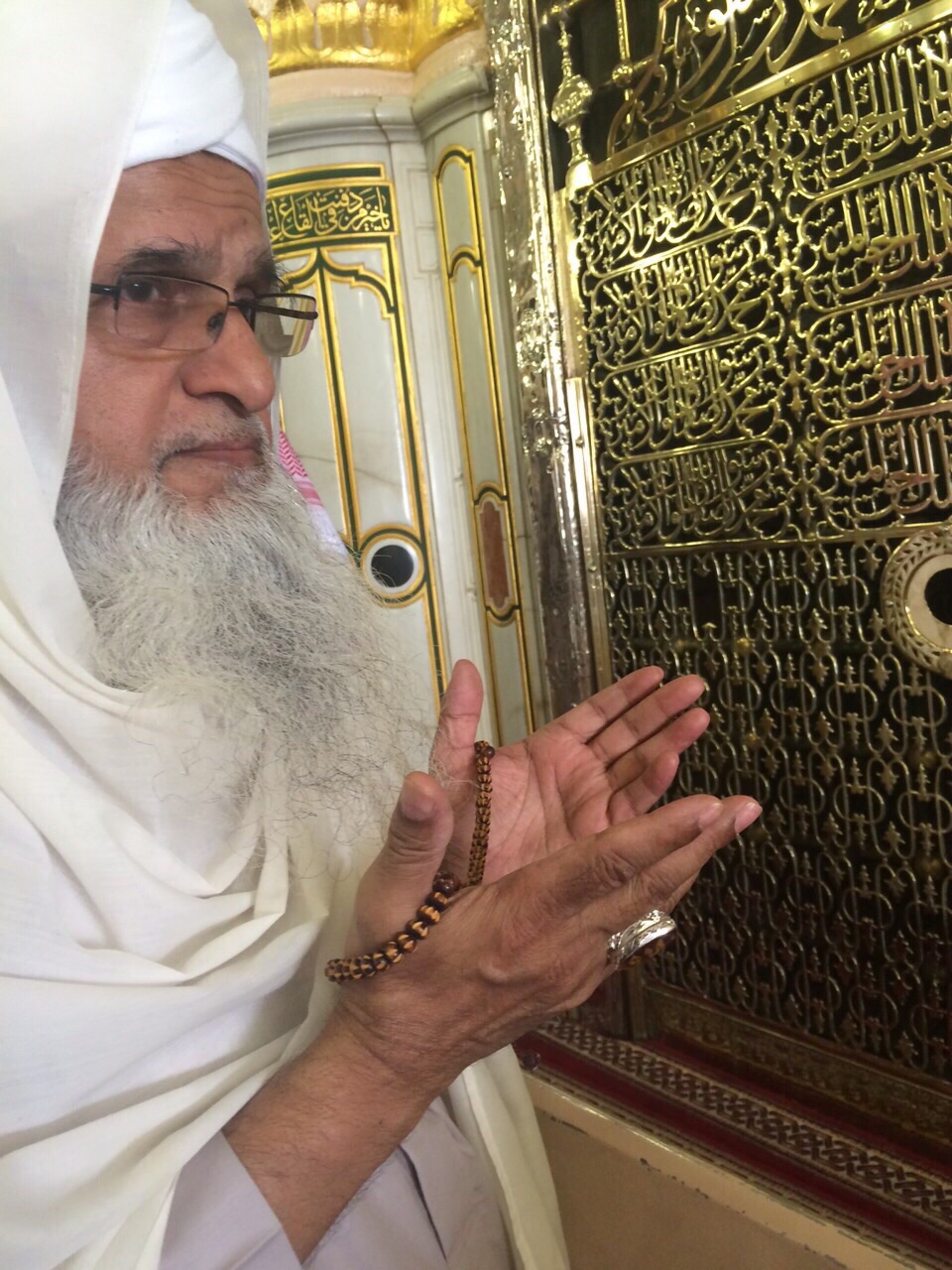 Shaykh Banaras Owaisi: A Living Saint of our time, a Spiritual Healer who heals people from both physical and spiritual ailments, founder of the Medina Ghosia charity and the Spiritual Master of the Owaisi Order of Tasawwuf.
The Owaisi Silsila comes from Sayyidina Owais ibn 'Aamir al-Qarani who never physically met our Prophet Muhammad ﷺ but frequently saw and took knowledge from Him ﷺ spiritually. In the same tradition Shaykh Banaras received the Owaisi Silsila directly from our Prophet Muhammad ﷺ and he guides His followers from around the world to become better Muslims with the Treasures He received directly from Allah and His Prophet ﷺ.
Learn more:

Charity
Medina Ghosia has been helping people and improving their lives since 2007 (Charity number: 1121982).
Our main areas of focus are:
Clean and sustainable water provision by way of water-wells. These projects are mainly focused in remote areas where water access is scarce and the local communities do not have the means necessary to construct wells themselves.

Educational Centres in poor and deprived areas where children do not have the opportunity of a basic education.

Mosque Construction to provide not only a place of worship but also a communal building that can be used to serve the local needy inhabitants.
Read more about our charitable works here.

Spiritual Healing
Shaykh Banaras Owaisi is a Spiritual Healing Specialist and a Saint (Wali Allah) with more than 18 years of experience of healing people from Black Magic (Sihr), Envy (Hassad), Evil Eye (al-Ayn), Cancer, COVID-19 and more. His healing method uses the Holy Qur'an and his God given spiritual gifts.
At our testimonials section you can read many unique experiences of a vast number of people who have been helped and successfully healed. Reading through them you will find the reassurance and confidence to get in touch for you own cure.
The great number of people who have been healed is proof in itself that he truly is a Saint and a Friend of Allah ﷻ. He is eternally grateful to Allah Almighty for being given this gift to heal and serve the Ummah.
Learn more about spiritual healing (ruqya):
Donation Appeal
We APPEAL to all Muslims to generously donate towards our Two Educational Institutes in Azad Kashmir (Qatar, Landa and Village Luna Azad Kashmir)
PLEASE DONATE GENEROUSLY TOWARDS THE HOUSE OF ALLAH in the coming blessed month of RAMADHAN.
The Prophet of Allah ﷺ says, "The best of you is the one who learns the Holy Quran and then teaches the Holy Quran to others ".
Hazrat Muhammad ﷺ has said," Acquiring knowledge is a necessity for every Muslim, "and "Those who go out to learn for the sake of teaching others, they have gained the great reward and ajar of 70 siddiqeen (pious people) ". Our Blessed Prophet (p.b.u.h) has also said, "Anyone who spends even one dirham (one pound) on an Alim or an Islamic Scholar, that person will get reward and ajar of spending gold the size of Ahad Mountains."
We are in the process of completing Medina Ghosia Education Centre and Mosque which is so much needed service that could provide to our local community in Pakistan Kashmir. We invite all Muslims to participate fully in this project to obtain the benefits and rewards of doing this and leaving a legacy behind for the future generations to come.
Inshallah, YOU will say "Yes" to this invitation, to HELP build this project up of having Medina Ghosia Education Centre and Mosque which will HELP our children, brothers, sisters and reverts who would like to learn the Holy Quran but who are unable to do so due to lack of suitable facilities in the locality. Please SENDall your DONATIONS, including ZAKAT, SADAQA, FITRANA.
Please navigate to our donations page to send your donations.
Jazakallah Khair for your generous Donations and we greatly appreciate your HELP in bringing Medina Ghosia Education Centre and Mosque into our community. May Allah (swt) bless you and your family and reward you all, Ameen.
Choudry Barkat Hussain
Chairman Medina Ghosia Education Centre, Azad Kashmir.